This is an old photo but wanted to post a pic of how the desk flight simulator used to look back in 2012.
There are 3 27″ DELL U2711 monitors up top and a 22″ touchscreen DELL monitor below.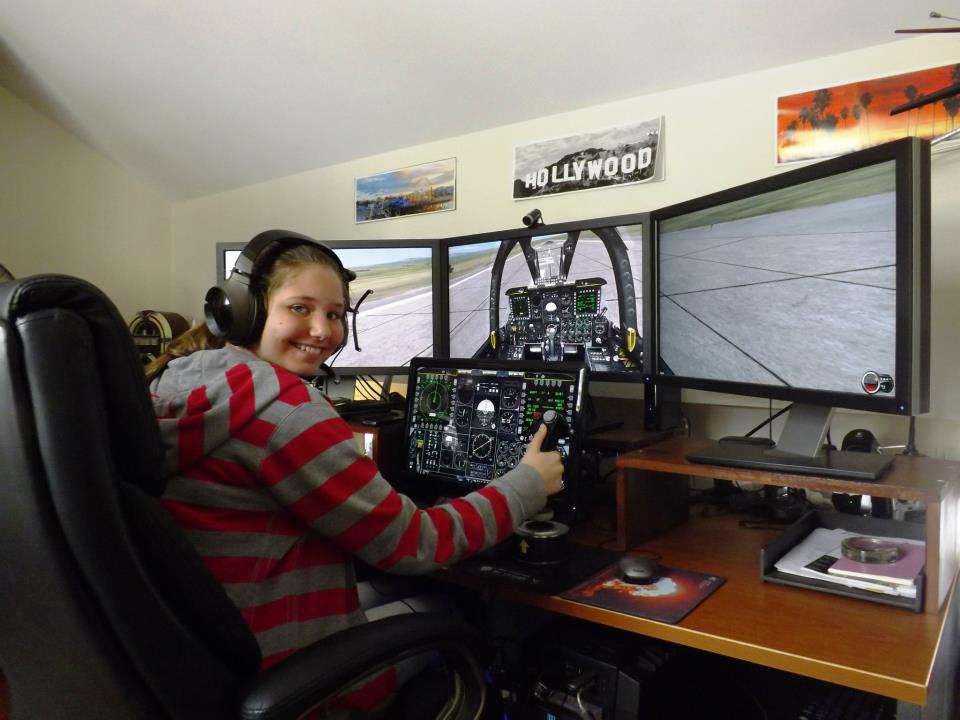 The system is running DCS A-10 simulator which is an amazing sim with incredible fidelity and realism. Just about every single system and switch is fully simulated and it takes a while to learn to start and fly it…let along manage the weapon systems.
The bottom screen is running Helios which allows you to create a custom panel which hooks back into the game…the result is that the bottom screen is fully interactive and touch enabled so every system can be controlled there – radios, MFDs etc.
The controls are Thrustmaster Warthog controls that includes stick and throttle quadrant based on the A-10 (in fact I think they just use A-10 parts).
Our model Charné is also wearing a TrackIR headset attached to the headphone (on the left) which tracks head movement to change POV in the top screens…so you can just look around like normal. Essential for timing your turn from base to final or seeing the smoke trail from a SAM to figure out where it came from and get your angle right to defeat it.
The same setup can also be reconfigured to simulate GA Acft (eg C-172) with different controls and panel and sim (FSX or Flight or Prepare3d) or helicopter with a USB collective also not pictured.