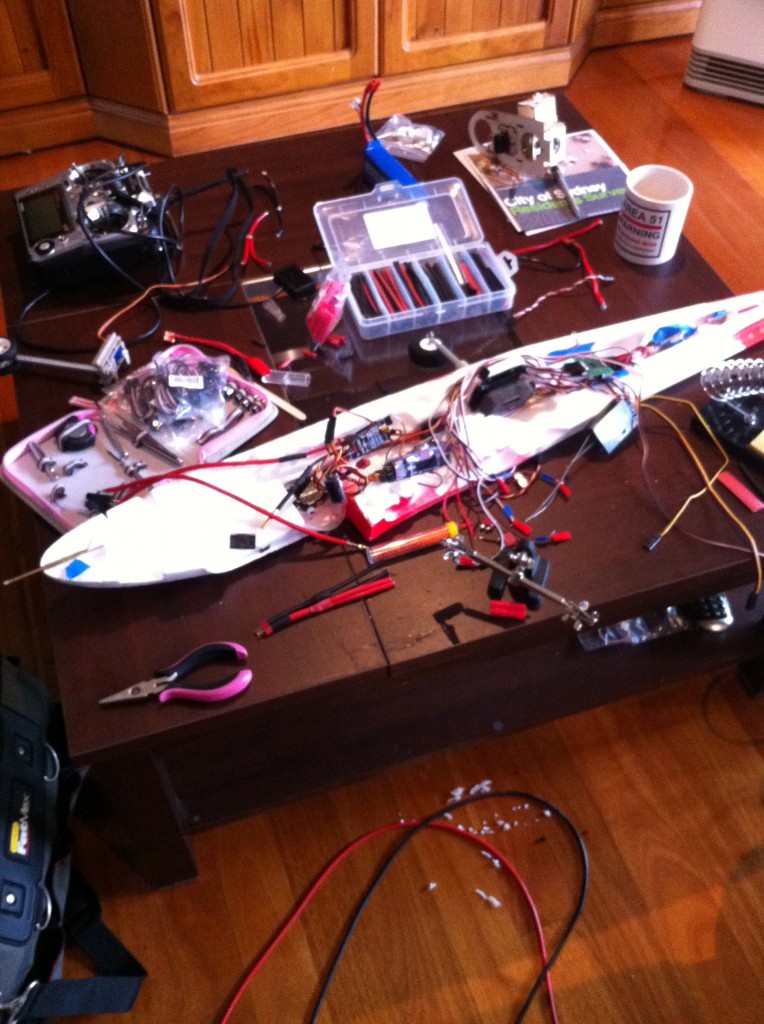 I may have over-reached when I started this project.
I am installing a lot of kit into this – a flight data recorder (with GPS), an autopilot (also with GPS), heads-up display, video camera and transmitter, steerable nosewheel…and navigation lights!
Just working out where bits are going to fit and running wiring has been a nightmare – I've cut out more foam from the fuselage than is still remaining there.
There have been some key considerations when deciding where to place the different electronic components. I have tried to keep the receivers (GPS x 2 and radio receiver) as far away as possible from the video transmitter. Also I have tried to place the autopilot as close as possible to the centre of gravity. Finally I have put the pitot tube (for airspeed measurement) in the nose to get the cleanest airflow.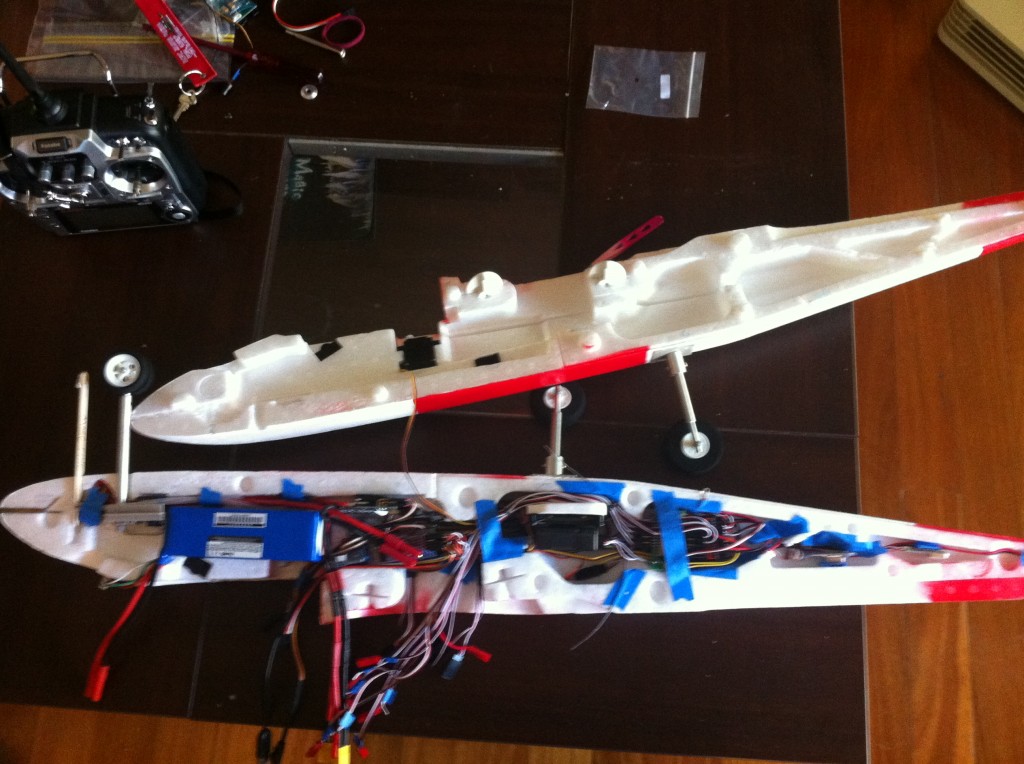 The Layout
The bottom half of the fuselage is upside down – the cockpit area to the left and the cavity to the tight of that is where the wings attach.
Starting from the left we have the pitot tube (the horizontal tube sticking out of the nose), the paddle pop stick is inserted to trigger a hidden microswitch that turns everything off, next is the steerable nosewheel, then the 4s LiPo battery which is shoved up against the Eagle Tree Data Logger and On-Screen Display. The cavity under the wing is where all the wires come out that plug into the wing components – I have kept it clear of any electronics as all the available space is taken up by the wires when the wings are attached. To the right of this (above the main gear) is the autopilot (essentially just a small box with a bunch of gyros in it). Next is the lights controller which makes all the LEDs flash the correct way (9 LEDs in this aircraft); underneath this is the Radio Receiver. Finally to the right of this is the GPS for the Flight Data Recorder followed by the GPS for the autopilot.
Technical Specifications:
Receiver: Futaba R6014HS
LED Controller: Punk RC (controlling 2 red Anti-collision strobes, 3 white navigation lights/ strobes, red and green right of way lights on wingtips and 2 white landing lights).
Flight Data Recorder: Eagle Tree Data Logger V4 and Eagle Tree OSD Pro (On Screen Display)
Autopilot: Fyetech FY-21AP